The Garden to shower Experience. ™️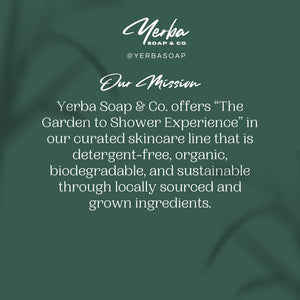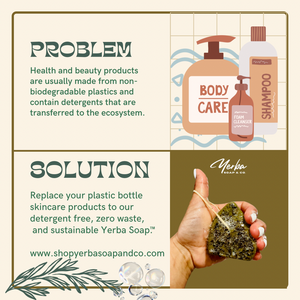 Our Vision
Replace Plastic Bottles, Reduce Carbon Footprint, Zero Waste, and Give Back to the Community. 

Your Support Matters💚
Year to Date Yerba Soap replaced 28 plastic 10 oz. bottles…and counting!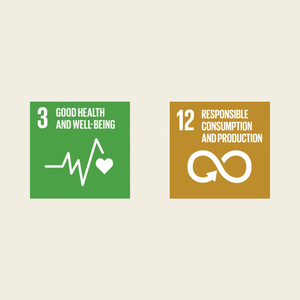 testimonials
Girl those soaps for my face!!!! 😍😍😍😍😍😍😍 My face doesn't feel dry at all after using them!!! That's what I look for in a face wash, I'm in love!!! 🥹

Kat
Omg! We got this
lovely soap on
string from
@yerbasoap & my
husband & I love it.
This one has
pumpkin & it makes
our bathroom smell
so beautiful! All
organic ingredients
& she grows her
own herbs to use in
her products!

Karen
Today has been a
struggle for me mentally
but thanks to
@yerbasoapandco, I'm
able to fully relax &
show myself some
love!! I finished my first
bag, now I have 2 more
that I'm excited to try.
My skin feels so soft
after using the bath
salt.

Tulip
These products are truly amazing. The fragrance, feel, and even the look are great. I have had the pleasure of experiencing all of the collections that have been released and each one has been better than the last. Thankfully, there are still specific favorites that continue to be in stock year round!

B. Cardoso
I'm so fascinated with the lip oil! Its so smooth and moisterizing on my lips, they dont get dry anymore after applying this every morning to my skincare routine. It has a soft scent that I like and its so convenient to carry around when I need to add some gloss to my lips!

K. Cruz
Glowing skin with a purpose!
Join our email newsletter to receive exclusive news and discounts!
Featured in